Washington D.C. Property Management
Let us manage your Washington D.C. rental property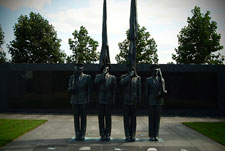 Our Washington D.C. Property Management company can handle all of your management needs. We focus on maintaining your property until you return or sell. It's our guiding principle and we employ many tools and services to help you achieve your goals. As your property manager we oversee the process of securing qualified tenants, managing your property and complete accounting for all income and expenses.
We offer several affordable plans for property management delivering three levels of service. Our A La Carte base level plan is designed for investors looking for some guidance and to have professional management resources at their disposal -but only when needed. Our Turn-Key program is our ultimate service plan which includes all of our services bundled into one affordable monthly fee. If you need something in-between we offer an affordable Flat Fee program which includes most of our services and discounts on leasing not available with the A La Carte plan.
Serving throughout Northern VA and DC
Know These Property Management Laws as a Landlord in Washington DC
Washington, DC has one of the best rental markets in the country. Here's what you should know about property management laws if you're a DC property manager!
You can't charge any more than one month's rent for the security deposit. This is different from Virginia, which allows two months' rent. Know your limits for the security deposit amount!
If you fail to make important repairs, tenants can withhold rent. This is a right of tenants living in DC. Be sure to be prompt about making important repairs, such as leaks or heating problems.
A written lease is not actually required, but you should always have one. A written lease protects both you and the tenants from legal issues that may arise.
You must be able to provide receipts for rental payments, security deposit debits, etc. Again, this will not only protect you, but is a basic tenant right.
Circle Property Management can help you handle all this and more if you have an investment property in Washington, DC!
Washington D.C. Area Information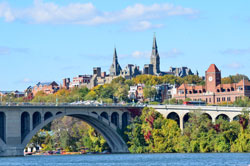 The National Mall is a large, open park in downtown Washington between the Lincoln Memorial and the United States Capitol. Given its prominence, the mall is often the location of political protests, concerts, festivals, and presidential inaugurations. The Washington Monument and the Jefferson Pier are near the center of the mall, south of the White House. Also on the mall are the National World War II Memorial at the east end of the Lincoln Memorial Reflecting Pool, the Korean War Veterans Memorial, and the Vietnam Veterans Memorial.
Directly south of the mall, the Tidal Basin features rows of Japanese cherry blossom trees that originated as gifts from the nation of Japan. The Franklin Delano Roosevelt Memorial, George Mason Memorial, Jefferson Memorial, Martin Luther King, Jr. Memorial, and the District of Columbia War Memorial are around the Tidal Basin.
The National Archives houses thousands of documents important to American history including the Declaration of Independence, the United States Constitution, and the Bill of Rights. Located in three buildings on Capitol Hill, the Library of Congress is the largest library complex in the world with a collection of over 147 million books, manuscripts, and other materials. The United States Supreme Court Building was completed in 1935; before then, the court held sessions in the Old Senate Chamber of the Capitol. Source From Wikipedia