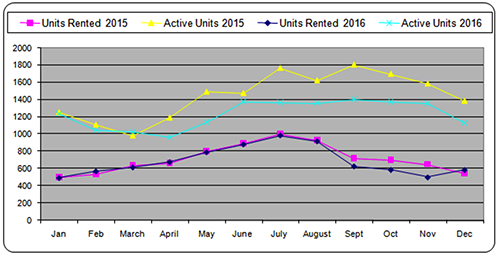 Circle Property Management has closed the books for 2016 and now we reflect on the positive events throughout the year. There was some surprising moments as well as positive numbers for the rental market compared to 2015. The year started strong but stalled in September, October and November.
We did have a surprise bump in December which we attribute to the end of Presidential Election of 2016. November was our worst month year over year with a 23% drop in units-rented. We recovered nicely in December with a 7.8% increase over last year. Overall we saw a positive year as reflected in the data below.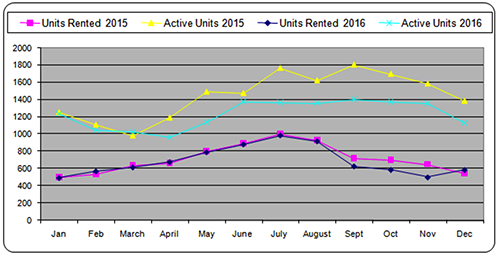 Average Rent rose again in 2016 compared to previous years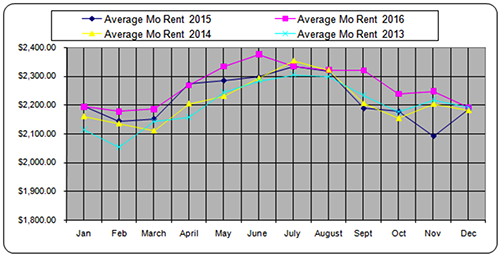 Comparison To Last Year
Compared to 2015 we are positive on all the numbers with the exception of units rented "as an average". We were down 3.8% on units rented year-over-year but all the other statistics are in positive territory. Reflected below is rental statistics which is either positive or negative to the market.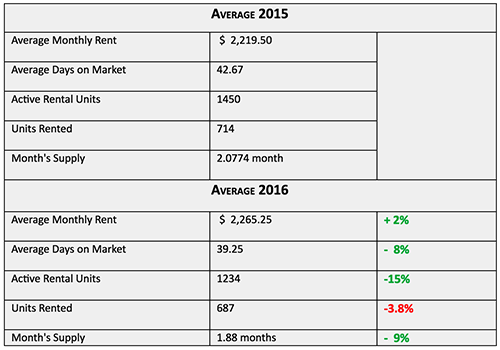 Looking Towards 2017
After we reflect on 2016 our thoughts now look towards 2017 and the overall mood seems to be positive for Real Estate.. Sales were positive in 2016 exceeding "sales 2011 through 2015". On the chart below the black line with green squares represents homes sold throughout the year in 2016 compared to the past 5 years and it's apparent that 2016 was a good year to sell a home. We have heard that many of the sales fell through representing over thirty percent of all contracts that never went to closing. This high failure rate was due in part to rising interest rates and concerns about the economy, pre-election.
Washington Area Economy
With the election behind us and a new president, we see both positive and negative potentials which could effect the local economy. It's still very early to anticipate the outcome but we will follow this closely. Our only concern is the hiring freezes in the Federal Government and one would expect some caution with housing among Federal employees. We depend on new employment to drive growth and a robust rental market.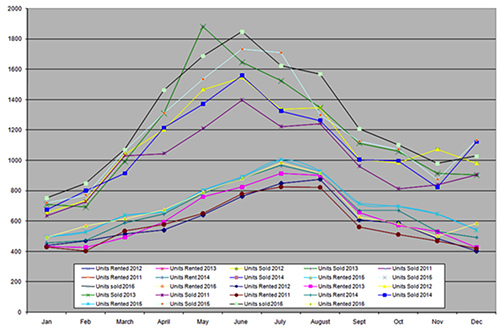 UNITS SOLD 2011 THRU 2016

If we continue the sales trend our market should improve as we start the spring cycle. We have not seen much negative correlation between sales and units rented but have felt from time to time, when tenants consider renewing a Lease we lose some to a home purchase. Overall our outlook is positive but will keep an eye on the numbers.
We have placed a data chart on our main page of http://www.circlepm.com towards the bottom of the page. We still maintain all the spreadsheets and monitor the MLS every month but limit the commenting to specific events. All of the data we extract is form our MLS system (MRIS) and still use Excel to present the data and charts.