Text Size: A A A
Property Maintenance Intelligence
Our Mission: Quick, Cost-Effective Conclusions to Work Requests
Property Maintenance Intelligence System
Property Maintenance Intelligence consists of four active processes to reduce home repair costs for Landlords. Since 2015, we have reduced repair costs significantly by applying property specific knowledge-based intelligence.
The 4 RULES of PROPERTY MAINTENANCE INTELLIGENCE
Comprehensive Property Inspection (Onboarding)
During the onboarding process - we perform an extensive initial inspection, during which we record over 100+ data points.
Proactive Tenant Engagement
We send timely and regular maintenance reminders to tenants - to help protect the systems in your home.
Repair Request Triage
We engage with tenants to help repair or solve a maintenance request themselves - both reducing cost and quickly solving issues.
Property Intelligence Database
We maintain a database for each property which allows us instant access to the 100+ data fields when responding to maintenance requests - complete with photos and data entry - of all systems in the home.
PROPERTY MAINTENANCE INTELLIGENCE SYSTEM FLOW CHART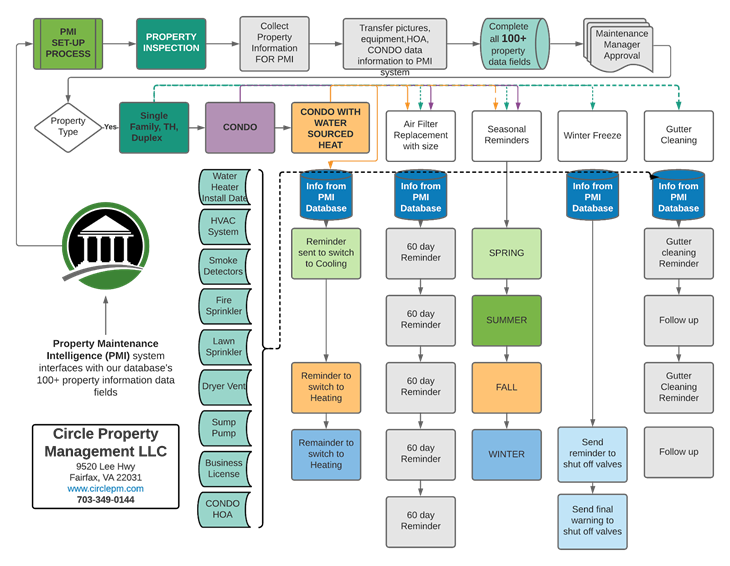 Better Outcomes by Using Property Maintenance Intelligence
By engaging tenants, providing accurate information to our vendors, and assessing property risks we accomplish our mission. By using Best Practices and Accurate, Instantly Accessible Data, we achieve the best possible outcome for our homeowners.
Tenant Self-Service (Quick Tenant Resolution)
Effective Vendor Management (Providing accurate product information, saves time)
Property Risk Assessment (Knowing when to replace equipment before it fails)
Tenant Self-Service Act
By using Property Maintenance Intelligence to triage every new maintenance request, it can result in a tenant self-service act.
Being proactive rather than reactive to maintenance requests we can often guide a tenant to make the repair on their own.
Tenants who solve a problem on their own can receive a $25 credit as an incentive, saving $100s for our landlords.
By working with tenants to solve their maintenance requests, we create positive returns to owners and improve tenant relations throughout the lease cycle.
PROPERTY MAINTENANCE INTELLIGENCE WORK ORDER PROCESS FLOW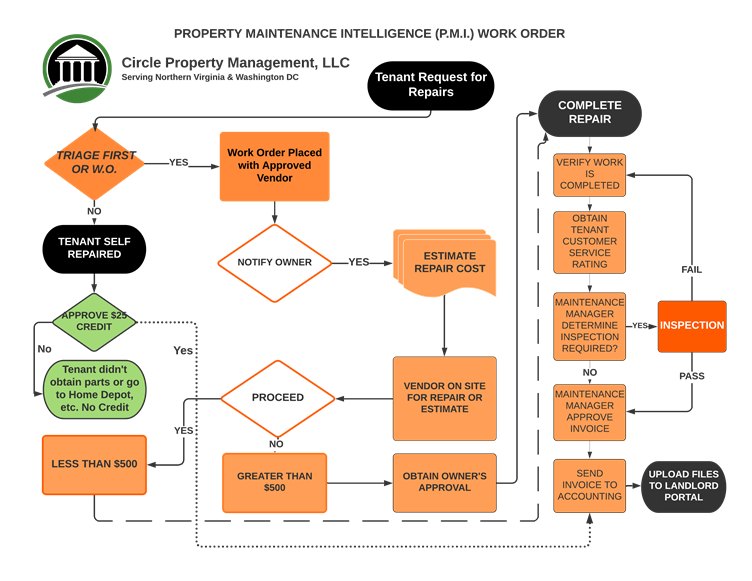 Effective Vendor Management
By providing accurate information to our vendors in real-time, we reduce the number of service calls.
The vendor is able to appear at the property with the accurate information and correct parts.
Reduce inconvenience to tenants while increasing the efficiency of our vendors saves time and money.
Property Risk Assessment
By knowing the risks to your home and understanding possible points of failure, we minimize maintenance costs.
Common failure points are documented and recorded in our PMI system for proper triage and quality control over the life of your home.
This is the Foundation of our Mission to Lower Maintenance Costs and provide the best service to our owners.