Supply of Rental Units (Active Units)

July has been an interesting month to say the least. Our concerns from previous months have been evident in the charts. The inventory has been higher than previous years and we actually started to chart the "active inventory" since the beginning of 2014 born from our concern that we may have some head winds from higher supply. Although the supply is still in a safe territory at 1.76 months supply we are 28 percent higher as compared to July 2014. Historically we have remained below 1.5 months supply in July. The inventory has remained stubbornly high throughout the year and we will watch August and September to see if the trend continues to rise. As the market reaches 2.0+ months supply we will see a dramatic increase in the days on market and suspect a drop in prices. (Average Rent)
Days on Market
Average Rent
Despite the supply of rental units at 1770 as compared to 1280 (28%+) in July 2014 we have seen the units rented slightly above 2014, keeping pace with last year. The average rent as compared to 2014 has been good to landlords till July when we saw our first dip compared to 2014 and may be the first time we have seen a drop but as an aggregate 2014 has seen on average higher rents compared to 2014. The beginning of the year started off with higher than average rents but as we progressed the curve has lost steam in June and July. We will look at August closely to see if the trend continues.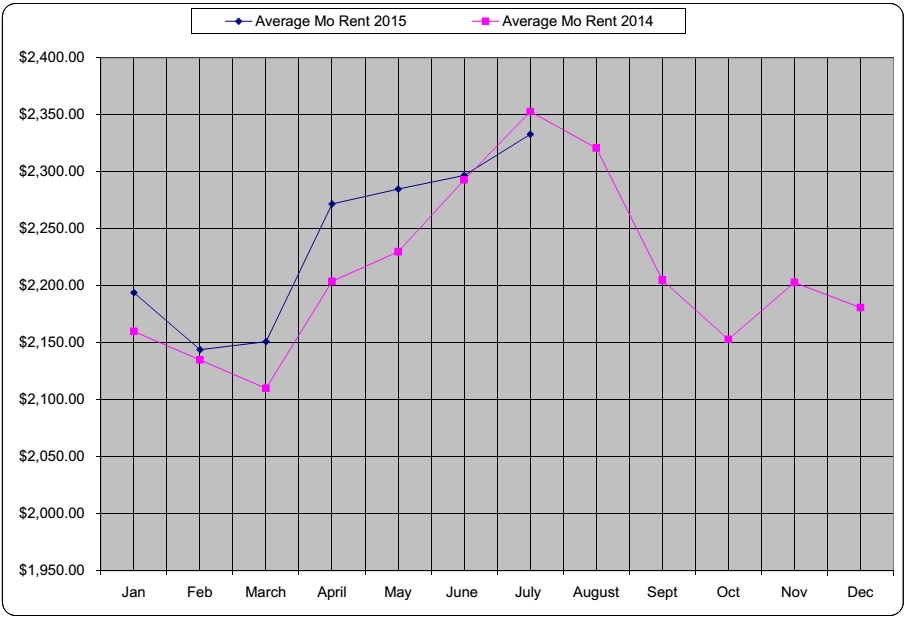 Property Sales
Property sales have been competition for the rental market. As we speak to tenants on renewal of their Leases, we have found it's been harder to keep tenants because of the perception that it is getting cheaper to buy a home than it is to rent. It's almost trendy to buy a home now before interest rates start to rise.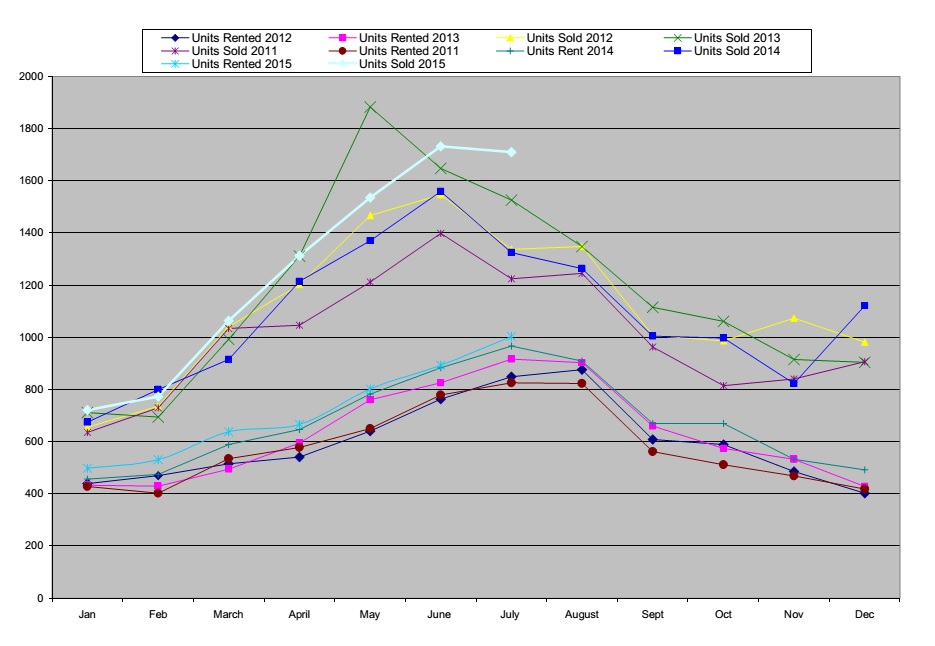 Conclusion
It is impossible to predict the future but we are able to track some basic trends in the market place trying to better understand the trends when it comes to Renting, Buy and or Selling Real Estate. We feel that our charting of the market makes us better informed and provides our clients the knowledge to make informed decisions.
This report is prepared monthly with data collected from MRIS. Circle Property Management is a Licensed Broker and a member of NVAR, a licensed user of the MLS service provided by MRIS. We make every effort to collect the data but provide no guarantee of the statistical data in our charts.
Click Here for the July Market Report