Rental Market improves in February 2015
Our forecast in January was a bit gloomy. The data did indicate that we had a soft month mainly due to oversupply in the rental market which resulted in an average of 65 days on the market. Some had more and some had less but we were concerned about the supply of rentals being too high for the season.
Our forecast is looking much better based on the February numbers! The days-on-market is down to 52 days to rent the average property versus the 65 days back in January. Inventory is down 12% and the months-supply is 2.09 vs. 2.52. The only weakness we see is "average months rent" but it is in line with previous months.
January and December were weak due in part to the weather conditions and some over-supply of rental units. There should be a little pent-up demand and we certainly have seen activity pick up in the past week.
The only variable will be rentals competing with sales. Sales in February were up 11% over February, 2014 so we may be losing some of our tenants to the sales market. We are seeing some evidence of renters realizing they can sometimes own for less than renting. We always lose some renters to the sales market but it's very difficult to measure or quantify.
Overall we are optimistic. The weather has improved and we will return to a normal rental market with spring on the horizon. We look to see no more than 1.5 months supply which is usually the sweet-spot in our industry.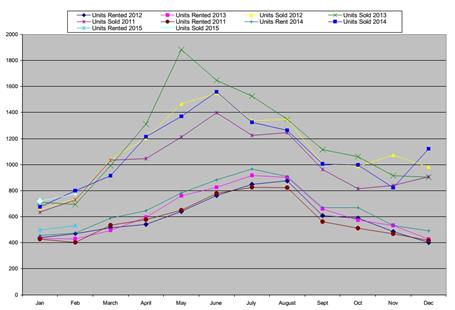 This report is prepared monthly with data collected from MRIS. Circle Property Management is a Licensed Broker and a member of NVAR, a user of the MLS service provided by MRIS. We make every effort to collect the data but provide no guarantee of the statistical data in our charts.